Workplaces across industries, including those in the automotive, healthcare, manufacturing, chemical, oil and gas, and food manufacturing sectors, operate in hazardous settings with dangerous gas, liquid, or solid particulates. Cuts and chemical burns while working in these hazardous settings could result in serious injuries. Such occurrences could put employees' lives in danger and cost employers a lot of money in compensation claims.
For instance, according to data from the U.S. Bureau of Labour Statistics, in 2020, there were over 4,700 fatalities and 2.7 million injury and illness incidents, costing an average of around $250 billion annually in direct and indirect expenditures. This illustrates the financial toll that occupational illness and injury take on the country's economy and labor productivity.
Additionally, the U.S. government has established the Occupational Safety and Health Administration (OSHA) with the Occupational Safety and Health Act of 1970 to guarantee safe and healthy working conditions for employees by setting and enforcing standards as well as by offering training, outreach, education, and assistance. Employers are responsible for costs and consequences if they violate OSHA's safety regulations.
Therefore, employers from diverse industries are implementing stronger safety regulations and guidelines for employees to follow.
Under these guidelines and safety measures, disposable protective apparels play a significant role in the protection of the workforce. This article further dives into detail about the importance of disposable protective apparel in different industries, but first, one needs to understand what disposable protective apparel is.
What is disposable protective apparel?
The term "disposable protective apparel" refers to clothing that protects users from particles, dust, heat, molecules, vapors, allergens, radiation, and other hazards but is normally worn just once and needs to be changed on a regular basis.
These apparels are produced using non-woven or knitting techniques that heavily utilize polymers. In the workplace, disposable protective apparel is mainly utilized in the healthcare, industrial, and construction sectors.
With rising investments in the healthcare sector, the usage of disposable protective apparel is anticipated to expand significantly. Moreover, the market for disposable protective apparel is also expanding because of rising consumer awareness of personal safety issues and technological advancements such as the creation of breathable and heat-resistant clothing.
According to the BIS Research report, the global disposable protective apparel market was valued at $2.41 million in 2021, and it is expected to grow at a CAGR of 6.1% and reach $4.35 million by 2031.
Find more details on this report in this FREE sample
Application of Disposable Protective Apparel in Different Industries
Due to workplace safety concerns, the demand for disposable protective apparel among end users is rising. A few of the examples are discussed as follows:
1.    Healthcare: In healthcare settings such as clinics, hospitals, and doctor's offices, disposable protective clothing is employed. It serves as a protective barrier between mucous membranes, including the skin, mouth, nose, and eyes, and infectious elements such as viral and bacterial pollutants. Disposable protective clothing may be able to stop the spread of pathogens from respiratory secretions, blood, or other bodily fluids.
Protective disposable workwear is furthermore employed to shield individuals who are at a high risk of infection due to a medical condition such as immunodeficiency or a surgical operation from coming into touch with visitors and healthcare professionals and possibly infectious materials. To avoid exposing the wearer and others, effective use of disposable protective clothing entails appropriately removing and discarding contaminated pieces.
2.    Oil and Gas: The breathable, heat-resistant, disposable protective clothing creates a shield between the person and the heat. Explosions and flash flames pose a constant risk of injury to personnel in the extraction and refinement industries. The individual is additionally shielded from any dangerous chemical splashes during the extraction of oil and gas. 
Oil refineries play a significant role in the production of transportation fuels. The distillation process in oil refineries involves burning crude oil at extremely high temperatures in order to extract different hydrocarbons, including crude oil, natural gas, gasoline, and other vital energy sources. The hydrocarbons are highly flammable and produce heat, water, and carbon dioxide when they burn.
Workers are kept safe in an emergency with the help of breathable protective clothing that is also heat resistant. The disposable protective clothing that is breathable keeps the wearer cool and makes their tasks easier.
3.    Mining: The safety of mine workers is greatly impacted by using disposable protective clothing, which shields them from lubricating, hydraulic, and cutting fluids. This disposable workwear includes reflective strips to increase the visibility of mine workers so that they can be seen by approaching vehicle drivers.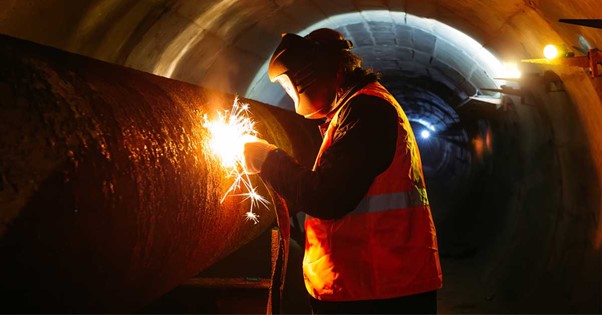 Additionally, disposable protective clothing that is heat-resistant and breathable protects workers from two major risks, i.e., flash fires and electric arc flashes. Coal, copper, gold, tin, bauxite, and nickel are all extracted from the earth by mining. The potential for injury and flash fires is considerable for workers as they harvest coal and other minerals from the mine. The spontaneous burning of coal and carbonaceous materials in the rocks is what starts coal mine fires.
Due to the toxic fumes, dust, high temperature, and humidity, working in a coal mine is risky. The use of heat-resistant, disposable protective clothing contributes significantly to workers' safety. When doing their regular manual chores, employees are outfitted in heat-resistant, disposable protective clothing to ensure they can tolerate high temperatures.
4.    Chemical: Workers in the chemical sector are exposed to a variety of dangers, such as solid particles, liquid splashes, or hazardous fumes. Disposable safety gear keeps workers safe by serving as a barrier between the risks and them. Wearers' heat stress can be decreased by using disposable protective clothing as a chemical splash barrier for numerous harmful industrial chemicals. Compared to other chemical suits, this disposable protective clothing has a high moisture vapor transmission rate, which offers cooler chemical protection. These garments are employed in the processing of numerous chemical products, including those derived from petroleum, petrochemicals, specialized chemicals, and other substances that require heating.
5.    Automotive: Various original equipment manufacturer (OEM) businesses that produce automobile parts for use in metal treatment, paint shops, and other facilities employ disposable protective clothing. Manufacturers of disposable protective clothing now find the automobile sector to be quite appealing. The productivity of an auto plant worker is significantly influenced by protective clothing. Workers wearing these clothes are shielded from hazardous conditions while manufacturing vehicles.
Additionally, disposable protective clothing keeps the finished items from being contaminated, especially while painting, because the spray booth needs to be kept clear of lint and dust. Workers in the automotive industry need safety during the metal production of vehicle parts, which involves cutting, bending, and welding equipment, as well as during the painting process. These procedures expose workers to intense heat. Disposable protective clothing with superior ventilation and heat resistance not only provides protection but also comfort for the wearers.
Conclusion
With rising awareness amongst manufacturers concerning the risks associated with injuries at workplaces, employers are exhibiting increased demand for disposable protective apparel, which is expected to boost the sales of these apparel in the upcoming future.
Interested to know more about the growing technologies in your industry vertical? Get the latest market studies and insights from BIS Research. Connect with us at  [email protected] to learn and understand more.