The automotive sector is entering a revolutionized era with a change in customer behavior, showing an inclination toward technological advancements and increasing competition in the market due to the entry of many new players. Customers are showing interest in increasing autonomous driving, electric vehicles, machine learning, cloud computing, and blockchain technology to their value-added experience of driving vehicles.
Moreover, the disruption in the supply chain and operations with the COVID-19 pandemic has opened the doors for new and strong business strategies to stay relevant in the market. Manufacturers in the automotive sector are leaning toward vehicle diagnostic analytics solutions to improve and compete with the rising demands in the industry of connected vehicles.
This article will elaborate on the application of vehicle diagnostic analytics in reshaping connected vehicles.
What are vehicle diagnostic analytics solutions?
Vehicle diagnostic analytics solutions are based on the diagnostics data of vehicles that are generated through sensors and onboard diagnostic tools installed in a vehicle offered by the market players. These solutions are used for various applications, including predictive maintenance, warranty analytics, and residual value estimation.
Across the automotive industry, primarily among vehicle fleet owners, vehicle diagnostic analytics solutions are witnessing rapid adoption. The vehicle diagnostic analytics industry is majorly dependent on the collection, storage, and analysis of data generated from diagnostic tools installed in vehicles.
The data collection and storage process often become complex for automotive original equipment manufacturers (OEMs), generating the need for third-party companies to store the generated data in their data warehouses with the authorization of OEMs.
According to a report by BIS Research, the vehicle diagnostic analytics market is expected to reach $4.42 billion by 2031 from $1.82 billion in 2021, growing at a CAGR of 9.22% during the forecast period 2022-2031.
To get more information, download this FREE sample report.
The implementation of vehicle diagnostic analytics solutions has seen major demand in connected vehicles, internal combustion engines (ICE), and electric vehicles (EVs). With such increasing demand, the market is expected to flourish more during the forecast period (2022-2031).
What is the need for vehicle diagnostic analytics in connected vehicles?
A connected vehicle is able to communicate through cloud computing built on transport infrastructure, broadcasting relevant information into the cloud.
For getting such information, smart and intelligent analytics solutions are required that can also monitor a vehicle's ecosystem, keeping continuous surveillance along with risk management and vulnerability assessment.
These insights improve the customer experience while reducing maintenance costs and preventing accidents.
The established vehicle diagnostic analytics solution vendors are working toward the advancement of such solutions aiming to meet the future needs of customers in the vehicle diagnostic analytics industry. Moreover, network densification in connected vehicles enhances the capacity of their cellular communication networks and serves as a booster in the growth of vehicle diagnostic analytics solutions.
The growing demand for connected and semi-autonomous cars, primarily attributed to the increasing levels of vehicle autonomy, is one of the factors aiding the growth of the vehicle diagnostic analytics market.
Application of vehicle diagnostic analytics in connected vehicles
A connected vehicle is adjoined with the network enabling services such as vehicle tracking, vehicle diagnostic and predictive maintenance, and data-driven services like adapted insurance to the drivers' behavior through the infotainment unit, fleet management tools, etc.
To serve these vehicle diagnostic analytics solutions in the growing connected vehicle industry, companies are developing various innovative vehicle diagnostic analytics solutions based on advancements in technology.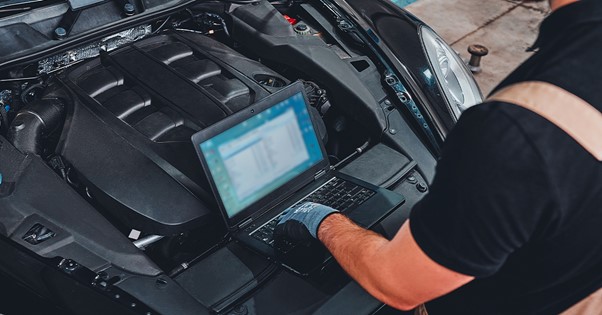 Some common applications of vehicle diagnostic analytics are as follows: 
Remote attacks: A connected vehicle has a wider scope of new entry points for the attacker to manipulate since it functions on a network. Vehicle diagnostic analytics reduces the risk of remote attacks at a higher stake causing a real impact on the vehicle and driver data safety.
Cybersecurity: Vehicle diagnostic analytics solutions aims to advance state-of-the-art mobility, focusing mainly on vision sensors, data and artificial intelligence, and cybersecurity in connected vehicles. It provides in-vehicle security solutions for exchange-to-exchange (E2E) visibility and detection on the connected apps to the connected vehicles.
Vehicle-level automated risk assessment solution: Vehicle diagnostic analytics offers innovative vulnerability detection for connected vehicles' software while developing the vehicle-level automated risk assessment solution.
Thus, vehicle diagnostic analytics data is highly useful in elevating the customer experience by offering new services to help improve the connected vehicle's performance.
Conclusion
The vehicle diagnostic analytics market is significantly evolving and is anticipated to continue to grow at the same pace over the coming years during the forecast period. Automotive diagnostics analytics solution providers are coming up with innovative solutions and launching new solutions in the market.
Customer preference is tilting toward connected vehicles with high-end connectivity, which can create a viable opportunity for vehicle diagnostic analytics solutions to gain strong ground in vehicle performance enhancement. Moreover, with the increasing awareness regarding cost savings and enhanced safety levels, the application of such solutions in vehicles is expected to increase the global end-user adoption of vehicle diagnostic analytics solutions.
Interested to know more about the developing technologies in your industry vertical? Get the latest market studies and insights from BIS Research. Connect with us at [email protected] to learn and understand more.